Titan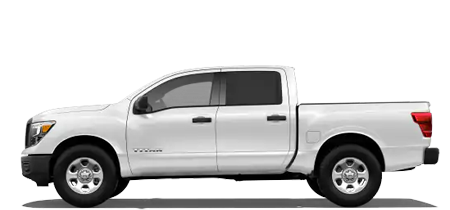 Rogue

Altima

| Retail Rates (Unl Miles) | Daily | Weekly | Weekend | Monthly |
| --- | --- | --- | --- | --- |
| Titan Crew Cab | $75.00 | $570.00 | $237.50 | $2,550 |
| Frontier Crew Cab | $75.00 | $450.00 | $187.50 | $1,575 |
| Versa Note | $45.00 | $270.00 | $112.50 | $1,050 |
| Rogue (x3) | $70.00 | $420.00 | $175.00 | $1,800 |
| Pathfinder | $90.00 | $540.00 | $225.00 | $2,400 |
| Sentra | $60.00 | $360.00 | $150.50 | $1,500 |
| Kicks | $45.00 | $270.00 | $112.50 | $1,050 |
| Altima | $73.00 | $438.00 | $182.50 | $1,890 |
Rent The Latest Nissan Model At Huttig Nissan
Here at Huttig Nissan of Plattsburgh, we understand the hassle of being without a vehicle while your car is in the shop. That's why we are proud to announce that Huttig Nissan of Plattsburgh is now part of the Nissan Rent-A-Car Program. So if you're from or will be traveling in or around the Plattsburgh, NY area and need a rental vehicle come visit us at 4670 U.S. 9, Plattsburgh, NY 12901. But when you rent a vehicle from us you're not just getting any old rental, you're getting a Nissan rental! That means not only do you have an opportunity to rent the latest Nissan models at very competitive rates, but you'll also get loyal customer service and even complimentary 24-hour Roadside Assistance. Some Nissan favorites that are available for this program include the Nissan Altima, Rogue, and TITAN! So if you're in need of a vehicle because your ride is in the shop or even for business reasons, give us a call at (518) 561-1210 or stop in for more information today!
Huttig Nissan Rental Application
In order to take part in the Nissan Rent-A-Car Program, there are a few rules and requirements applicants must meet. In order to take advantage of this opportunity applicants must be 25 years of age or older, have a valid drivers license, have a major credit or debit card that can be charged at the time of pick up, have proof of full coverage insurance that will cover the rental vehicle during the rental period, adhere to the non-smoking rules or pay a $250 cleaning fee.
Stop Into Huttig Nissan To Rent The Nissan Model of Your Choice
Eligible applicants can rent for a day, week or even a month, whatever works best for you. We promise that you'll be satisfied with your Nissan Rent-A-Car experience. Don't wait too long to take the model you want out for a spin, they're only in the program for four months, that way you'll never have to be concerned about the condition of the vehicle you're driving. After those four short months they're made available for sale, so you can take the Nissan you love home for good. Stop into Huttig Nissan of Plattsburgh today at 4670 U.S. 9 in Plattsburgh, NY for more information about this fantastic program!